Join the Club!
If you are interested in joining LFMOMC...
Please email membership@lfmomc.com and we can sign you up and help you access MemberPlanet, where we have our members-only site, or we can answer any questions you may have. Thanks for taking an interest in our club!
Why Join LFMOMC?
There are many benefits to membership in the Loudoun/Fairfax Mothers of Multiples Club.
Participation in club-sponsored events such as seasonal gatherings for families, holiday parties for the kids, and monthly meetings which often feature guest speakers on topics of interest to parents of multiples or fun events.
Meals for Moms of Newborns is such a great benefit to our members. As a member of the club you have the opportunity to receive meals after your little ones arrive or you can help out those new moms in the group by volunteering to cook a meal for them. Members helping members!
Access to the LFMOMC closed Facebook Group where MoMs have the chance to connect, ask questions of other club members, and share valuable experience and advice.
Monthly meetings that can include support & social hour, club business & announcements, guest speaker or activity, and more.
Organized playgroups and outings with other families of multiples!
Access to the Members-only section of MemberPlanet to connect with other members outside of Facebook.
Membership in Multiples of America and a subscription to its newsletter (see below).
Participate in our semi-annual consignment sales by selling your used children's clothing, toys and other items in our very popular and very successful consignment sales twice each year AND be one of the first to shop!
Meetings & Events
Membership in LFMOMC provides you with access to all of our regular club meetings and events. In addition to our monthly general meetings there are several special interest group meetings. LFMOMC also hosts a variety of club events throughout the year. Some examples are described below.
General Meeting
Our monthly General Meeting is held during the evening of every first Tuesday of the month at the Belmont Greene Clubhouse in Ashburn or at other locations around Ashburn. The meeting is open to all LFMOMC members and prospective members and includes a support & social hour, club business & announcements, guest speaker or activity, seasonal twin clothing exchange, and a raffle & door prizes! For meeting time, details, and RSVP please check MemberPlanet.
Kids' & Family Events
LFMOMC hosts annual children's parties such as fall and winter Holiday Parties (with crafts, games, and food). Annual family events such as a Fall Festival and Summer Picnic (complete with games and activities for all ages) are also great ways to meet other LFMOMC families.
Moms' Events
Our club provides many opportunities for members to have a bit of fun. We have MoM's nights out, a Holiday Party, and many other interesting events throughout the year.
MAPOM Convention
This annual convention for the Mid-Atlantic Parents of Multiples is a lot of fun! It's a chance to learn more about life with multiples and bond with your fellow multiples moms (there are a couple of dads that attend too) from the Mid-Atlantic area. It is in the spring each year for a long weekend.
Multiples of America Convention
The national convention is held each year during the last full week of July. They offer educational, research and networking opportunities for parents of multiples all across the country. Convention attendees have an opportunity to hear qualified speakers and attend special workshops on a variety of subjects which offer assistance to clubs and individuals.
Dues
Full membership dues are $35 annually. Our membership year runs from June 1 to May 31. New Members joining after January 1 pay a prorated amount. Membership is open to parents, grandparents, and legal guardians of multiples.
For renewing members: Dues must be submitted by June 30 in order to be eligible to recieve the full member percentage in either yard sale for the club year.
Prospective or Expectant Moms
Prospective members may attend as guests for three months. Expectant mothers will be welcome to attend our meetings until three months after the birth of their multiples. For more information, contact our Prospective Members Coordinator at membership@lfmomc.com.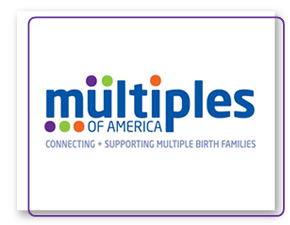 Regional and National Organizations
MAPOM
Mid-Atlantic Parents of Multiples is our regional organization.
Multiples of America
A portion of the dues is applied to the membership in Multiples of America aka the National Organization of Twins Clubs (NOTC) and includes a subscription to the Multiples of America's Notebook, a complimentary quarterly publication, sent directly to the home of every member. Each issue contains articles of interest to parents of multiple birth children and includes research information, club ideas, expert and age-specific columns, and much more.